Project manager in Sant Joan de Déu
Research projects on rare paediatric tumors and acute lymphoblastic leukemia are about to start!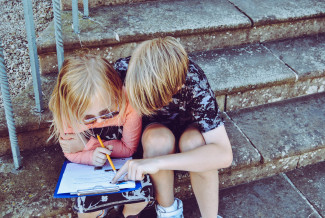 Share4Rare launches two collaborative studies aimed at improving scientific knowledge on these types of cancer
On the occasion of International Childhood Cancer Day, which is commemorated annually on February 15th, Share4Rare launches two new research projects that will help improve scientific knowledge about these types of childhood cancers thanks to information and medical data provided directly by families and caregivers.
The first project aims to improve the description of the natural history of the following rare tumors:
The medical team of Pediatric Oncology of Sant Joan de Déu Children's Hospital Barcelona has designed specific questionnaires for each of these diseases in order to obtain information reported by patients that will allow to accurately describe the evolution of these pediatric tumors.
The second project is a clinical and psychosocial study whose objective is to identify and analyze the side effects occurred after the treatment of acute lymphoblastic leukemia (ALL) in pediatric patients. The study will take into account the patient's perspective (or that of caregivers, in the case of pediatric patients) as a source of information. This initiative will include patients from European countries and from three Latin American countries (Argentina, Chile and Uruguay) thanks to the collaboration with the European project CLOSER, coordinated by the Sant Joan de Déu Foundation.
Both projects share common objectives, such as identifying the potential burden of the disease in order to anticipate information to patients and their families, which will allow them to better manage the disease.
Childhood cancer is usually very rare and research is often scarce, so many affected children still do not receive adequate treatment or care and they often obtain a late or incorrect diagnosis. According to Childhood Cancer International Day, more than 300,000 children between the ages of 0 and 19 are diagnosed with cancer worldwide every year and approximately 8 out of 10 of these children live in low-middle-income countries, where their survival rate is usually close to 20%.
With these two research projects on childhood cancer Share4Rare would like to join the collective effort to increase the overall survival rates of children with cancer. If you are a caregiver of a patient affected by any of the above-mentioned tumors, sign up for Share4Rare and help us promote research in pediatric oncology. We need you!
Related diseases
Acute lymphoblastic leukaemia
Gliomatosis cerebri
Neuroendocrine pancreatic tumour
Paediatric melanoma
Pancreatoblastoma
PI3K related overgrowth syndrome (PROS)
Proteus syndrome
Retinoblastoma
Solid pseudopapillar neoplasm of the pancreas
Xeroderma pigmentosum