Project manager in Sant Joan de Déu
New Share4Rare research project for children with acute lymphoblastic leukemia!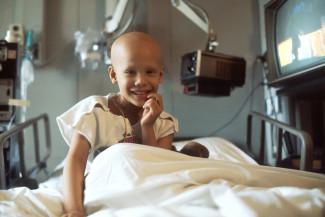 Share4Rare is launching a research project to study the effects of therapies on the quality of life of children with leukemia
Acute lymphoblastic leukaemia (ALL) is the most common type of cancer in childhood, but due to the treatments currently available, the overall survival of children with this disease is now 85%. However, treatment toxicity is high and patients may suffer long-term side effects that ultimately reduce their quality of life.
With the aim of improving the quality of life of paediatric patients affected by ALL, Share4Rare has launched a new research project that will study the side effects of these therapies. The study is both clinical and psychosocial, and it will identify and analyze the side effects caused by the different therapies 5 years after remission, taking into consideration information provided directly by patients and/or caregivers for the first time.
How will we do this?
The team of Pediatric Oncology at the Hospital Sant Joan de Déu in Barcelona will analyze the data reported by patients and caregivers through questionnaires specifically designed for this purpose.
During the study, information on the burden of the disease will be collected, taking into account different factors such as the age of onset of the disease, the treatment received or the country of residence. These data will be also used to educate and empower patients and families from a psychosocial perspective by facilitating a broad health approach of the disease.
The research project has a collaboration agreement with the CLOSER project, also funded by the European Commission and coordinated by the Sant Joan de Déu Research Foundation. Through this collaboration the participation of patients from any country of the European Union plus the involvement of patients from Argentina, Chile and Uruguay is specifically contemplated. Analyzing the data from the perspective of the patient's country will help to transfer good practices that can impact the quality of life of the patient and his family.
Why do we encourage you to participate?
Because by joining the initiative, patients and family members affected by ALL can actively contribute to research and suggest new research lines that may be interesting for you and other patients. In addition, you will help to make visible the needs of patients and families living with ALL and you will access the data analyzed by the researchers, which will certainly help you to manage the disease.
This research study will start on February 15th, the date that commemorates International Childhood Cancer Day. It is essential to register in Share4Rare and send us the informed consent document to participate in the initiative. Together we can improve the knowledge on ALL using the patient's perspective!
You can send an email to info@share4rare.org if you have questions or whether you would like to receive additional information about this or other studies.
Related diseases
Acute lymphoblastic leukaemia