Meeting the partners — Òmada Interactiva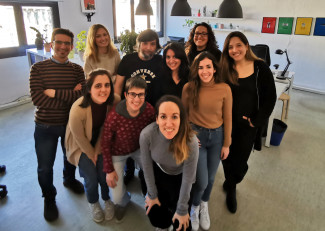 Design is not just how it looks and feels like, it is how things work. That is why having a sound design in place for a platform that boosts rare disease research is so paramount. Based on feedback from its users, Share4Rare keeps evolving to accommodate the user's needs. Òmada Interactiva is a Barcelona-based developer company that built the Share4Rare platform as it is today. And it did not go without some serious elbow grease.
The approach of Òmada was classic, yet revolutionary. After conducting a preliminary analysis and benchmarking, the initial graphic, functional and technological design of the open layer of the website was created. This was then tested and improved through a series of workshops that gathered input and from rare disease families, patient organisations and researchers. Then, Òmada proceeded with the part behind the registration: the community layer, and the most unique part of Share4Rare: the research layer.
Oriol Borrega Cepa, programmer and developer at Òmada explains the layer system in the platform. "The Share4Rare platform can be seen as an onion with different layers. The first layer is the open area: it consists of a regularly updated news section, a project information part, and it has this extensive library with medical chapters for many rare conditions. Additionally, here you can also find the Toolkit for Patient Advocacy containing resources and best practices from established rare disease organisations to get started in the field of advocacy". 
The second layer is specifically designed for the community. "Many rare disease patients and their families live in isolation due to the rarity of their condition and the difficulty in finding people in the same situation. Even when they are surrounded by friends and family who love them and care for them, there is a fundamental feeling of identification that is hard to fulfill. With the innovative People Like Me function, patients are mathematically connected with people that are like them in relation to sharing the same symptoms, condition or location. Share4Rare directly addresses both these issues with the community and the also with the research layer". 
The third research layer and ultimate core of the Share4Rare project was a challenge to deliver. Here, patients can contribute to research by participating in questionnaires. Dealing with personal health data, this layer needed some serious protection and validation. "For example, by listening to the users, we simplified the consent form to make it digital, without compromising safety. The project fits perfectly with our philosophy: to use technology to effectively change people's lives for the better. Building the community and research features of the platform has been a thrilling professional challenge. We will always embrace a challenge that makes us grow and learn". 
"When we started the project, we knew that there was an urgent need for quality research. This project has placed us in direct contact with patients and patients' representatives, and that has been truly educational. We saw the project as a strategic opportunity for growing, as a team, in the direction we want our firm to take for the years to come, joining research, practical implementations of new technologies, and direct contact with end users". 
Oriol is confident that the platform is a step in the right direction, although the path ahead is still lengthy. "We also hope to be able to create a sustainable tool that will grow and evolve in the future to continue allowing research in rare diseases. In practical terms, the project will be successful when it is fully viable on its own, so it can live for a long time. However, in personal terms, every study that yields results, every question answered in the community and every connection made between two patients is in itself a success".