Patient-powered co-design workshop 3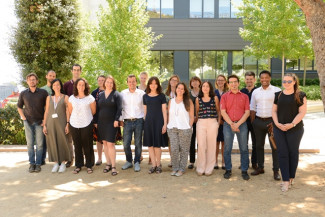 Gather input and drive collaboration in building the Share4Rare platform
A few weeks ago the third and final Share4Rare co-design workshop was held in Barcelona. This activity was enabled by The Synergist and it included participants from 7 different countries. What the partners aimed with this co-design workshop was to gather input and drive collaboration in building the Share4Rare platform.
While in the first workshop the goal was to build a strong basis of understanding of stakeholder needs and the second workshop was focused on validating the first prototypes and ideas for the community layer of the platform, the third workshop was intended to endorse the Unique Selling Point of the platform, while also continuing to gather feedback on the platform prototypes and design.
The event was highly participative. The key principles of the platform, such as are getting quality information faster, seeing where patients are and how they are doing compared to others, connecting with peers and having access to practical support across the care pathway were thoroughly discussed. Furthermore, there were several rounds of conversation and prototyping throughout the day. A list of key outcomes is found below:
The experience and lives of patients with rare diseases can be improved by sharing information not only with clinicians, but also with researchers. Everyone needs to benefit from the information that the platform collects.

Patients need to be able to find carers, clinicians, diagnostic centres and other types of support through location mapping, and personal profiles where you state who you are, what you do, and where you are interested in.

Patients tell their personal stories with meaning through sharing experiences using text or other types of communication. Stories can be private, or shared with others on the platform, and non-English speakers can ask for help in translation.

Data sharing is the core of the project. These data will help researchers and clinicians to improve the lives of patients with rare diseases.
Finally, we would like to thank all our patients and patient organisations Muscular Dystrophy UK, Saint Joan de Déu Foundation, Spinal Muscular Atrophy Support UK, Melanoma Patient Network Europe, University of Newcastle, and the World Duchenne Organization for their active contributions during the three co-design workshops. Together we are stronger!