Patient-powered co-design workshop 2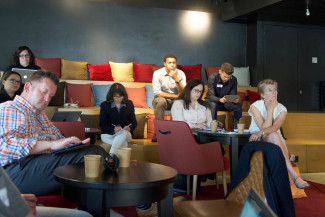 Connecting people with paediatric rare diseases through story-sharing and other solutions
The second co-creation workshop was part of the continuing community outreach of Share4Rare, as we work to bring better understanding, acceptance and inclusion of those diagnosed or dealing with rare diseases in Europe.
Last June the Synergist facilitated the second Share4Rare co-design workshop in Brussels, with participants from 6 countries, in order to build a platform that benefits communities battling paediatric rare diseases.
The Share4Rare project is focused in the establishment of collective intelligence and in the creation of bigger awareness about paediatric rare diseases, sharing experiences and knowledge of the people involved.
The goal of this second co-design workshop was to confirm relevant themes for the community of people connected with paediatric rare diseases, and to analyze and confirm different online solutions and services that are proposed to cover the detected needs, such as storytelling, forums, and Q&A's. During the day, S4R's technical partners from Òmada presented the first mock-ups of the second layer of the platform. This layer is addressed to the social and emotional aspect of rare diseases, offering a secure environment to share stories and knowledge about paediatric rare diseases.
It was definitely an insightful day, with inspiring people spending their valuable time with us, providing their honest feedback and points of improvement. The patient and patient advocates enjoyed meeting each other, creating meaningful conversations and connecting more and more interested people to this project.