Retinoblastoma
Oncology

SJD care and treatments
The Sant Joan de Déu Barcelona Hospital is a pioneer in the personalized treatment of retinoblastoma in Europe. The team uses the most innovative techniques, with a cure rate of its patients over 95% and the eye preservation rate in advanced stages of 99%. The different lines of treatment and research carried out within the Sant Joan de Déu Retinoblastoma Group are detailed below.
Our goals 
1. To save life. Our ultimate goal is to have the patient alive and with a healthy life. Our goals are aligned with the most up-to-date scientific data in the management of retinoblastoma.
2. To save the eye. Our treatments intend to avoid the enucleation of the affected eye.
3. To save vision. Our treatments intend to be safe for the retinal function.
4. To follow patients at all stages of the disease and afterwards. Our follow-up intends to prevent and to early diagnose second primary neoplasms of our patients, as well as to detect and treat chemotherapy-related toxicity.
Our multidisciplinary team of experts: ophthalmologist, oncologist, anesthesia, radiologist, genetics, pathologist, laboratory researchers, psychologists and child life.
Our treatments 
Intra-arterial chemotherapy - Treatment of retinal and subretinal tumors.
Intravitreal chemotherapy - Treatment of vitreous seeding.
Intracameral chemotherapy - We use this technique for the management of aqueous humor disease.
Systemic chemotherapy - Patient overall survival using our current protocol of systemic (intravenous) chemotherapy is 100% in patients with low risk of relapse and no receipt of adjuvant therapy and 95% in patients with high risk of relapse and receipt of an intensive chemotherapy regimen.
Treatment of trilateral retinoblastoma - We have valuable experience in the management of this rare subgroup of retinoblastoma patients.
Advanced therapies - We have developed an intravitreal oncolytic adenovirus for patients with chemoresistant retinoblastoma. This treatment is given in the frame of an ongoing Phase 1 clinical trial at Hospital Sant Joan de Deu.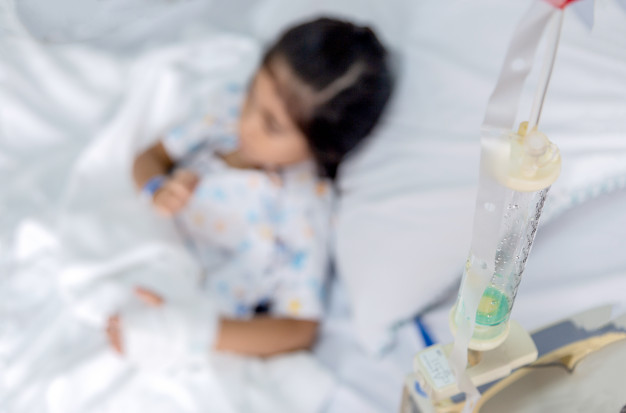 Our unique patient-customized protocols
Early molecular detection of metastatic retinoblastoma by sensitive PCR markers - Our goal is to detect the extraocular disease as soon as possible in patients at risk of systemic disease, and to follow up response to treatment with extremely sensitive molecular techniques.
Patient-derived tumor models - Our goal is to develop and use patients' tumors as laboratory tools to identify treatment targets and to test new treatments to fight the disease.
Precision Oncology Program - Pediatric Cancer Center Barcelona (POP-PCCB) - The POP-PCCB is an integrated, multilayered strategy for accurate diagnosis and personalized treatment of pediatric solid tumors. The program is based on comprehensive genome profiling (Next-Generation Sequencing, DNA methylation profiling, cytogenomics), molecular profiling, histological analysis, integrated with preclinical models and clinical data as an approach to improve diagnostic accuracy and identifying therapeutic options. In the retinoblastoma program, patients at relapse are included in the POP-PCCB program. The ultimate goal of this program is to identify personalized treatment targets for the most vulnerable patients.
Our research
Development of novel retinoblastoma models - We have developed patient-derived mouse models recapitulating human disease, as well as tridimensional retinoblastoma models.
Development of novel retinoblastoma treatments - We have designed and evaluated in the laboratory novel strategies to inhibit the blood-retinal barrier of retinoblastomas. • Discovery of molecular markers of dissemination. We currently implement the analysis of minimal disseminated disease by PCR in bone marrow and cerebrospinal fluid.
Clinical translation of advanced therapies - We have developed the whole preclinical and clinical research program leading to the launch of a new adenovirus treatment for retinoblastoma. This research received the 2018 Schweisguth award by the International Society of Pediatric Oncology (SIOP).
International collaborations on retinoblastoma - We collaborate actively with research groups based in France, Switzerland, Italy, Argentina and USA.
International collaborations on retinoblastoma chemotherapy in the Essential medicine group, Society of Pediatric Oncology Europe (SIOPe).
Our international activity
European Retinoblastoma Group (EuRbG). Dr. Guillermo Chantada coordinates the group EuRbG, composed by more than 60 international experts and representatives of patients associations dealing with retinoblastoma.

Spanish centre of Reference for the management and treatment of intraocular tumors (retinoblastoma) (CSUR)
Latin American Society of Pediatric Oncology (SLAOP). Dr. Guillermo Chantada is the current president of SLAOP, integrated by 200 members from 17 countries in Latin America.
PCCB Charity Fund. This initiative supports treatment costs for patients referred by their oncologists at their country of origin, upon the economic study of family resources.  
If you have any question or query about the treatments and research projects in retinoblastoma that are carried out at the Sant Joan de Déu Barcelona Children's Hospital, write us an email to info@share4rare.org and we will refer your query to the SJD research team.
Last modified
13 August 2020