Meeting the partners — World Duchenne Organization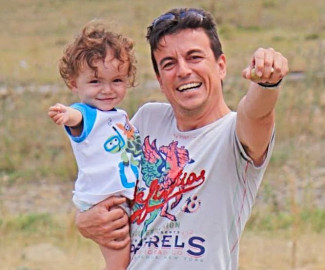 World Duchenne Organization is building a connected rare neuromuscular community and helping to include this community in the Share4Rare platform.
The World Duchenne Organization (WDO) is one of the two patient organisations joining Share4Rare as project partner. Dimitrios Athanasiou, WDO board member and father of a boy with Duchenne, did not hesitate accepting the invitation to join the project. "With worldwide coverage and a connected community, WDO supports the ultra-rare neuromuscular community in building engaged patient advocates and boosting patient agency". 
He explains why: "Although often seen as uncommon, it is estimated that 4-6% of the world population is affected by a rare disease at any given time. The rare disease community must shoulder responsibility and work together to improve research and understanding in this field" 
"Share4Rare is an excellent opportunity to include the ultra-rare conditions in patient-centric research, as this group often lacks the means to connect with other families in a safe environment and collect validated data to initiate patient-led research"
Starting as a collective of national patient groups, the World Duchenne Organization has evolved into a global umbrella organisation raising awareness and improving quantity and quality of life for those affected by Duchenne and Becker Muscular Dystrophy. Today it connects 46 patient organisations from 37 countries, coordinating the global strategy for these rare muscle-wasting conditions. 
The World Duchenne Organization shares knowledge and experience on connecting strong communities and building patient agency. One of the examples is the Share4Rare Toolkit for Patient Advocacy: "This shows how Share4Rare empowers rare disease advocates to become involved in patient-centred rare disease research. The Toolkit provides guidance on how to set up and implement a strategy, how to advocate for research that matters to patients, and presents tools and templates to publish a research paper or apply for funding. Even seasoned patient advocates can use this resource to sharpen their advocacy voice". 
Next to this, WDO coordinates together with the John Walton Muscular Dystrophy Research Centre, one of the research projects: The impact of neuromuscular diseases on education and employment opportunities of patients and carers. "Mental health is a topic that affects us all. Especially during the pandemic, caring for or being a person with a neuromuscular condition takes lots of time and effort. This research project aims to create a better understanding of the psychosocial impact of long-term caregiving, and how this impacts work and learning opportunities. It is paramount to understand the triggers and thresholds and create solutions that last".
Dimitrios is sure that Share4Rare will impact the rare disease community. "In a field where validated information is scarce, and the only means to attract research is by presenting data-backed arguments, Share4Rare is doing a great job empowering the rare disease community. We're looking forward to analysing the results from the research project and see where we can improve the lives of those affected by a rare neuromuscular condition".
Related diseases
Duchenne muscular dystrophy
Topics
Associations
Neuromuscular
Patient advocacy
Share4Rare