New study 2020
A better understanding of paediatric rare tumours
Motivation
Childhood cancers are considered ultra-rare conditions due to their low frequency and because in many cases the cause of the disease is unknown. More research is needed in order to improve disease management and the quality of life of these patients.
The diseases included in this study are:
Gliomatosis cerebri
Xeroderma pigmentosum
Giant congenital melanocytic nevus 
Retinoblastoma
Paediatric melanoma
Rare pancreatic tumours 

Pancreatoblastoma
Neuroendocrine pancreatic tumour
Solid pseudopapillar neoplasm of the pancreas
Objectives
Enrol patients affected by these rare tumours into Share4Rare to improve our understanding of some of these diseases and to allow clinicians and experts analyse the information and develop future treatments.
Method
A clinical and psychosocial study that will analyse information provided directly by patients and their caregivers about the disease and its treatments. It will also use validated scales to report on their quality of life.
Research is the heart of Share4Rare. By working together we can help to advance the research efforts in rare diseases. This is why we need you. Join the community and participate in research!
Create your Share4Rare account
Step 1 of 4
Sign up to gain full access to this unique community.
Already have an account?
Log in
The talk inside Share4Rare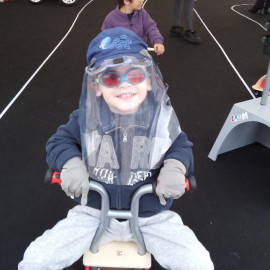 I would like that nobody experiences the same feeling of loneliness that we experienced when we receives Pol's diagnosis.
Pol is affected by xeroderma pigmentosum