New Share4Rare study: Access to COVID-19 vaccination in people with rare diseases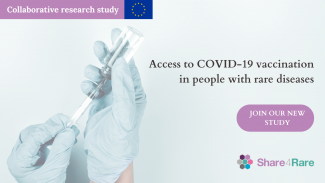 This new collaborative study aims to investigate the vaccination status of the rare disease community and the evolution and symptomatology of COVID-19 in these people.
In 2020 we launched an international registry to study the effects of COVID-19 on people with rare diseases. At that time, there was little or no knowledge about the effects of the pandemic on the community. 
The results of this study are currently being processed, although we can anticipate that in people with a rare disease in which two or more body systems are affected, the prognosis of COVID-19 seems to be more severe than in the general population. 
These data were collected at a time when there were no vaccines available. With the rapid approval of vaccines and all the scientific progress achieved in the past two years, at Share4Rare we considered to study the access to vaccination, the course and evolution of COVID-19 and the symptomatology and persistent symptoms in people with rare diseases. For this reason, we encourage all people who have a rare disease to answer a short questionnaire (it will not take you more than 15 minutes) in which you will be asked about the vaccines received and whether you have had COVID-19, among other disease-related questions. 
The study will gather information about: 
The rare disease and the body systems affected by it 

How many doses of the vaccine were received 

If you have had COVID-19 (and how many times) and what symptoms were experienced 

If you had difficulties in accessing vaccination 
All these data will allow us to have a broad view of the impact of the pandemic on the health of people living with rare diseases, even of those who have not been diagnosed yet. 
If you take care of a person affected by a rare disease or you have a rare disease yourself and you would like to participate in the study, you can do so through this link. 
Please, contact us at info@share4rare.org if you would like to receive additional information about this research project.