John Walton MD Research Centre
EURO-NMD – An overview of European Reference Network for neuromuscular diseases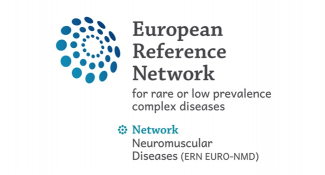 Did you know that there is a specific European Reference Network for rare neuromuscular disorders? It is a wide network of healthcare centres that works to speed up diagnosis and research in NMDs and improve the standards of care for these pathologies.
A staggering 7000-8000 rare diseases affect the daily lives of around 30 million people across the European Union. Even though EU citizens benefit from improved access to healthcare throughout the Union (due to the 2011 Cross-border healthcare directive) many people with a rare disease still struggle to receive a diagnosis or high-quality treatment for their condition.
The combination of small patient numbers spread sparsely across a large geographical area often results in this lack of access to appropriate healthcare as no one country is capable of diagnosing and treating such a high number of different diseases.
To address these issues, the European Reference Networks for Rare Diseases (ERN) were established in 2017. These virtual networks provide a place for highly qualified doctors and researchers to collaborate enabling patients and doctors across the EU to access the best expertise without having to travel to another country.
Currently, there are 24 ERNs working on a range of thematic areas such as skin disorders, eye diseases and respiratory diseases. The ERN for neuromuscular diseases is known as EURO-NMD. EURO-NMD is coordinated by Dr. Teresinha Evangelista and her team in Paris and currently consists of almost 70 healthcare providers spread across 22 countries.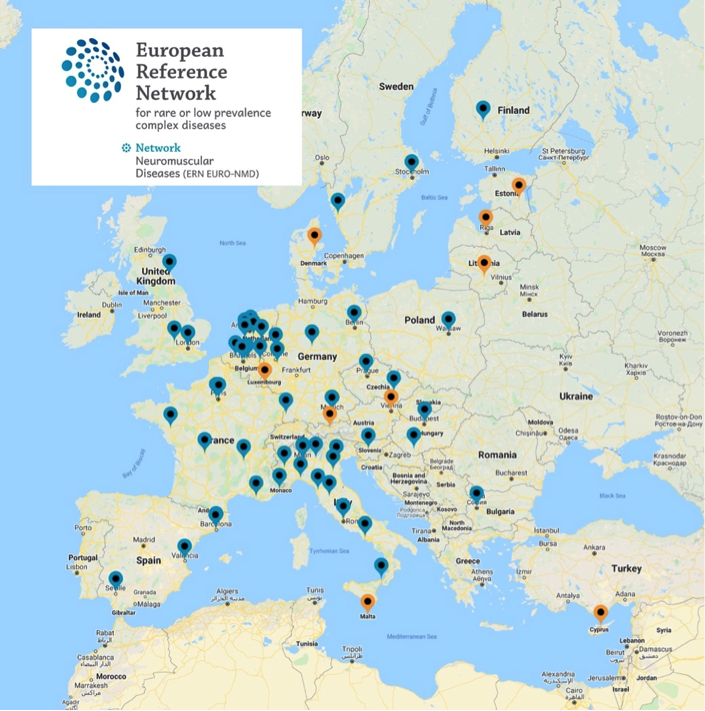 EURO-NMD offers a range of resources for the neuromuscular community, these include family care guidelines, a new registries hub and standard operating procedures for preclinical research. The network also delivers educational resources, namely an ongoing scientific webinar series which is becoming increasing popular. An annual residential Summer School, which is delivered in cooperation with TREAT-NMD, provides attendees with comprehensive understanding of the process that takes a potential therapy from the laboratory bench to patient bedside. 
Benefits to patients
More specifically for patients and doctors, the ERN can help a local doctor gain access to expert opinion from across the EU in the quest for a patient diagnosis or treatment options. This is achieved by a virtual panel of medical experts from across many disciplines convening in a secure online environment known as the clinical patient management system (CPMS) where they can discuss specific patient cases. Here they share anonymised medical information, including for example CT scans, lab tests, X-rays, allowing them to analyse and discuss it together. This lets a local doctor to collect input from other colleagues and use it to improve a diagnosis or to find the best possible treatment.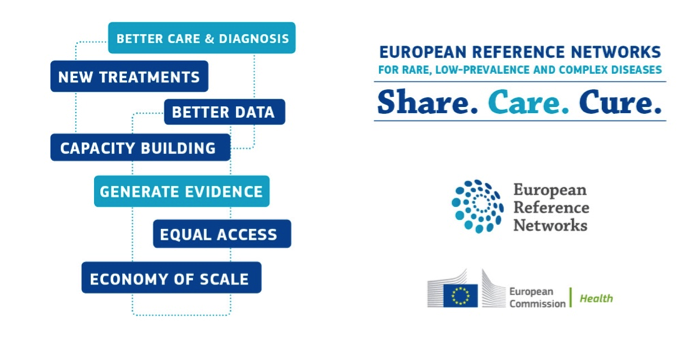 All data is only entered into the CPMS system with explicit, written consent and is fully anonymised. Specific measures protect and safeguard personal data, in accordance with European data protection law.
The ERN coupled with the CPMS enables EU wide access to medical expertise without the need to travel. If you would like to find out more about Euro-NMD please visit the network's website. EURO-NMD is co-funded by the European Union (Health Programme and CEF). 
Topics
Neuromuscular
Patient advocacy
Research