How to build an infrastructure for translational research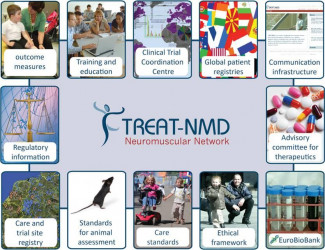 Going from the bench to the bedside with Rebecca Leary and Cathy Turner from TREAT-NMD


On 11th December 2018, Rebecca Leary, EURO-NMD Project Manager and member of the TREAT-NMD Secretariat and Cathy Turner, DMD Liaison and TACT Coordinator at the John Walton Muscular Dystrophy Research Centre at Newcastle University conducted a webinar for Share4Rare describing the objectives, goals and achievements of the specialist network TREAT-NMD, a collaborative network that provides tools and an infrastructure to facilitate research in rare neuromuscular diseases.
The TREAT-NMD Alliance is a network of excellence initially funded by the European Union with the aim of helping for preparedness of new treatments for neuromuscular diseases; this is, helping make the transition from the lab to the patient, with a special focus on global collaboration.
The webinar described the tools developed by TREAT-NMD, such as patient registries, outcome measures, standardisation of animal models and care guidelines and recommendations. Rebecca discussed the importance of building good patient registries and went on to describe how the TREAT-NMD Global Registries for Duchenne Muscular Dystrophy (DMD) and Spinal Muscular Atrophy (SMA) assist in the development of trials and innovative therapies.
The webinar also explained how the TREAT-NMD Advisory Committee for Therapeutics (TACT) works to improve clinical trials in rare neuromuscular diseases. This multidisciplinary international group meets twice a year to review and provide guidance on the translation and development path of therapeutics programs in rare neuromuscular diseases.
TREAT-NMD is also coordinating educational programmes that include disease specific masterclasses overseen by a recently formed Education Committee. Alongside this, the network has worked with patient organisations and others to produce family-friendly information resources such as patient and family guides based on the latest published standards of care, and apps to explain clinical trials to children. During the webinar, Cathy demonstrated some features of the apps, developed as a way of better informing children taking part in DMD clinical trials. They have been used alongside or even as a replacement for paper-based information sheets. One of the significant advantages over paper is that the information is spoken by a young boy – so there is no need to read text – and interactive features or information gathering can be incorporated.
The webinar concluded with top tips for using the TREAT-NMD model to build tools in other disease areas. The whole recording is available here.