Dr. Pablo Barvosa: "Data sharing will help us know COVID-19 better"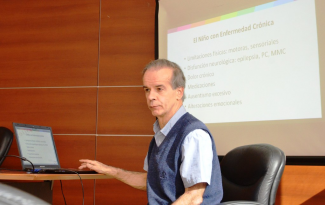 Dr. Pablo Barvosa is a pediatrician at Hospital Garrahan (Buenos Aires, Argentina) and one of the healthcare professionals who has participated in the design and implementation of the international registry of patients with COVID-19 and rare diseases.
He has been one of the thinking heads of our international registry of patients with COVID-19 and rare diseases. Dr. Pablo Barvosa is a pediatrician with extensive experience in the Argentinian health system. "I have been a doctor at the University of Buenos Aires since 1985. I did my postgraduate training initially at the Pedro de Elizalde Children's Hospital for two years and later, when the J.P. Garrahan Hospital opened, I completed two years of residency and became Chief Resident at the same hospital". Dr. Barvosa has also been a teacher and has spent 16 years as an internist doctor and the last 12 years as a pediatrician in the ambulatory care sector.
Regarding the current knowledge about how COVID-19 affects people with rare diseases, Dr. Barvosa admits that it is scarce, but that there are some important differences according to the age range and that this is the type of premises that should be verified using patient data. "In general, the difference between the pediatric population and the adult population with chronic diseases is notorious. In the case of children, COVID-19 similarly affects healthy kids and those with an underlying disease. In the case of adults, the evolution is more severe and eventually may present lethality".
The participation of healthcare workers in the registry of COVID-19 and rare diseases is essential. Pablo is one of those healthcare workers and he explains why: "Being in a hospital with a large casuistry provides us evidence on what we infer but want to confirm." He also encourages his colleagues to incorporate the cases they know in the registry:
«The more hospitals and healthcare professionals participate on the registry, the better»
"The statistics of two pediatric hospitals, Garrahan and Sant Joan de Déu, are ot enough". In addition, Dr. Barvosa believes that participating in an international collaborative study can bring great benefits. On one side, clinicians will be included in the potential scientific articles, and on the other, they will have the possibility to share data and participate in seminars or meetings where the problems of these patients will be studied in depth.
Barvosa feels hopeful despite the challenges that a project like this entails. "I am hopeful despite the reluctance that we doctors have to share our results. Clinicians and researchers must understand that if we share information we will be able to have more solid evidence". This will undoubtedly benefit all the people affected by rare diseases.
The main drawback of the project is the lack of patient data sharing in general, as it often requires time that doctors do not have. "But despite this obstacle, our aim is much more important and forces us to intensify our efforts in order to have significant results and be able to draw firm conclusions about how this pandemic impacts patients with rare diseases".
If you are a healthcare professional and you want to make this registry grow, we invite you to incorporate the data of your patients. The more data we collect, the better we will be able to understand the effects of COVID-19 on the health of people with rare pathologies. Together we are stronger!
*Source of the cover photo