Melanoma Patient Network Europe
Data for a difference — The Share4Rare research feature for patient organisations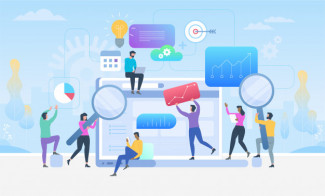 A patient advocate's reflection on the importance of evidence-based advocacy, patient-driven research and Share4Rare's ambitions
| | |
| --- | --- |
| Share4Rare Partner Violeta Astratinei from MPNE | Violeta Astratinei is a Ph.D. biologist with a background in environmental research. After she lost her sister to melanoma in 2014, she became a core member of Melanoma Patient Network Europe, MPNE. As a Romanian living in the Netherlands, Violeta founded the Romanian Melanoma Association and contributed to the management of the Dutch Melanoma Foundation. She joined the Share4Rare project in 2018. Her particular interests are clinical research and patient education. |
Why evidence-based advocacy?
Evidence refers to data or results created via a research process and is critical for informed healthcare decisions and policies. Today, evidence-based advocacy gains more and more attention from patient organisations (POs) seeking to improve patients' conditions and sustain their gains over time. However, from our experience in MPNE, generating evidence is a challenging process for patient organizations and there are almost no models to follow.
A Learning Curve
Although the opportunity to collect patient data and use it to better advocate for patient communities is not a new concept, POs started paying more attention once patients joined large social networks. At the same time, Patient-Reported Outcomes (PROs), patients' preferences, side effects and quality of life became essential in drug development, Health Technology Assessment and the improvement of healthcare services. One of our first research projects, published in 2016, "Social Media: A Valuable Tool to Assess Patient Perspectives Regarding Quality of Life" was a collaboration with ZIN, the Dutch National Health Care Institute, and a free-text based social media analysis of patient preferences with regards to Quality of Life (QoL). Our research showed that the available melanoma-specific QoL questionnaires do not correlate well with what patients view as important. This observation has further supported advocacy efforts to improve QoL measurement tools in melanoma. However, we could not use the data to its full extent and the first lesson learned was the difficulty of validating our results in a broader population when research runs on closed social media platforms.
What has happened since — The Share4Rare experience
Two years later, we were very excited to join the Share4Rare project and to advance the research agenda in paediatric and other rare melanomas. Share4Rare was designed as a completely new and independent platform to connect patients, clinicians and researchers and encourage collaboration in the rare disease area. The first year it was focused on building connections with rare patients and research groups and it soon became clear that the possibility to run independent research projects on the Share4Rare platform was highly attractive for any patient organization, not just those from rare disease communities. Share4Rare could become the place where patient organizations feel safe to address patients' needs and start generating data to support their claims.
A Research Support Service for POs
To get started in coordinating their research, POs learn to transform their community problems into research questions (Figure 1). In this stage, POs have the unique opportunity to identify and investigate those issues that their community considers as a priority. For example, research on how disease influences treatment choices would be relevant for our melanoma community as therapies for stage 4 melanoma move now early into the disease.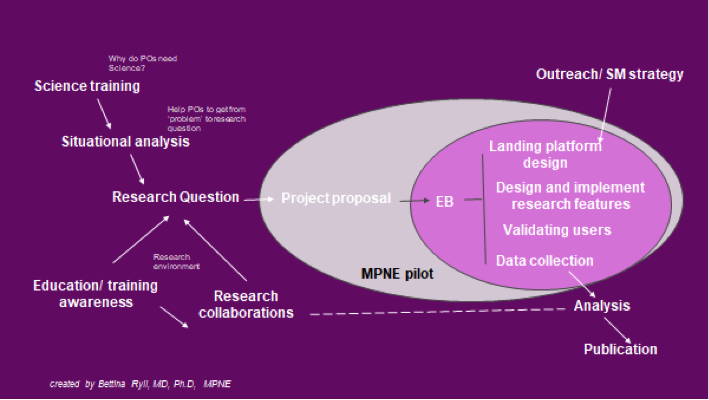 The research question is further converted into a research proposal, with its motivation, method, timeline, and resources, and then submitted to the Ethics Committee of Share4Rare. Within this step, POs connect with other specialists, bringing the required expertise under their coordination, and eventually apply for project funding. From this point further, the Share4Rare platform aims to ensure some crucial elements:
1. The Ethics Board
All research proposals need to be approved by an Ethics Board. This assures that research runs according to the ethical standards and participants are adequately protected. The review is also essential if POs intend to publish their investigation, as most journals will not release the results of a research that has not received the approval of an ethics committee.
2. Personalized Landing Page
Once approved, the project can start to collect data. Each project proposal will have its personalized landing page on the Share4Rare platform to allow the community to recognize the organization they belong. I think personalization of the project is important as patients feel confident to engage in a research project run by their own community.
3. The Validity of Research and Data Security
The Share4Rare platform also addresses the most critical aspects of research, such as the validity of results and data management. Once accessing the Share4Rare platform and giving consent for the study, research participants are validated via a relatively straightforward process. So there would be no outside interference with the survey, and authors could guarantee the authenticity of data. Furthermore, patient data and research results are held securely on the Share4Rare platform at the San Joan de Déu Barcelona Children's hospital, where they are extracted and analyzed.
An opportunity not to miss
To test the research feature, we at MPNE just started a research pilot on the Share4Rare platform. We are documenting every step in the process: formulating the research question, designing the research proposal, submitting to the Ethics Board, designing the landing page, data collection, analysis, and publication of results to learn from it and to develop a guidance document for future users. We are therefore very excited about the potential of the platform and hope it will be of value to many others!  
My dream for the future
I am very enthusiastic about the prospects to run independent research on the Share4Rare platform and how this will help improve outcomes for patients. I know it will not be easy, but I firmly believe that provided the right tools and support and connections, patient networks can drive the evidence generation on the topics that matter to their community.
See you on Share4Rare!
Topics
Associations
Oncology
Research
Share4Rare