Meeting the partners — Melanoma Patient Network Europe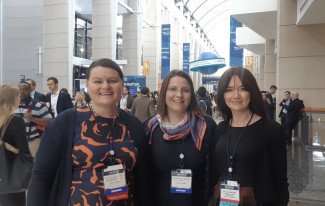 We recently spoke to our colleagues from Melanoma Patient Network Europe to learn more about their patients' organization and to share their view on the Share4Rare project.
Melanoma is a cancer starting in the pigment-producing cells of our body called melanocytes. The most common form of melanoma is skin melanoma. However, in rare cases, melanoma can also start in the eye, the inner linings of the body or on your hands and feet. Melanoma usually affects adults, but it occurs in very, very rare instances (less than 2.5 in a million) in children. 
Patient-first principle
Melanoma Patient Network Europe (MPNE) is a community of European melanoma patients and family members. Their goal is to tackle melanoma once and for all. Bettina Ryll, founder and chair of MPNE, remarks: "Our foremost principle is: patients first! We are not a classic patient organisation but a mission-orientated network system, working with a shared set of principles of orientation on results, evidence-basis and proactivity". 
Building melanoma communities
Bettina Ryll founded the organization after losing her husband to melanoma. Holding a medical degree and a PhD in biomedical sciences, she developed a special interest in patient-centric research and access to innovative therapies. "We have gained quite a diverse set of expertise through our work and networking in patient advocacy in melanoma", says Bettina. "Our expertise is how to ensure our research is patient-centric and in helping build educated, self-regulating patient communities." 
Together with Gilliosa Spurrier-Bernard and Violeta Astratinei, who also share a personal connection with melanoma, they successfully built a community for uveal melanoma: "We have seen with our own eyes what a difference a community makes for patients, so we were excited to join the Share4Rare project. It combines patient-driven research with the opportunity to build a paediatric melanoma community", states Gilliosa.
Making a difference in paediatric cancer
"Our hope was that Share4Rare is making a real difference for the community we know best – paediatric melanoma. We have now seen that our advocacy experience and scientific knowledge can also help other children affected by cancer and other rare conditions. Seeing children suffer is particularly hard, so progress is much needed. We hope that we can make a small difference to that." 
Together with opportunities, Share4Rare also brings challenges. "I think we underestimated how complicated data management can be!" Bettina is clear about her goal on Share4Rare: "Our aim is to make Share4Rare a well-integrated go-to place for patient communities and patient organisations to do the research they consider to be important. When this goal is reached, we consider Share4Rare to be a success." 
Topics
Associations
Oncology
Share4Rare