Spanish study finds two new biomarkers for amyotrophic lateral sclerosis (ALS)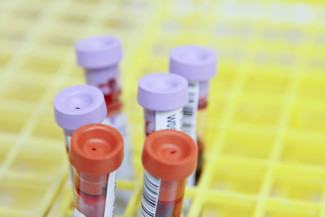 Abnormally high levels of two proteins have been discovered in a group of ALS patients, which could shed light on the origin and cellular mechanisms of the disease, currently still unclear.
According to a study by the CIBERER (Spanish Network Centre for Biomedical Rare Disease Research) published in the journal Neurology Neuroimmunology and Neuroinflammation, people with amyotrophic lateral sclerosis (ALS) have unusually high levels of two proteins: NOD2 and Spp1. Both of them are known to be involved in protein production and destruction processes (known as homeostasis), innate immunity, and inflammation. This is the first time that NOD2 is associated with the pathological mechanism of ALS, which could provide new clues about how the disease originates and develops, a question that is currently unknown.
The research team analysed cerebrospinal fluid and blood serum samples from 123 patients with ALS, and the data obtained was compared with the one obtained from 58 patients with other neurodegenerative diseases such as Alzheimer's and from 102 healthy controls.
In general, ALS patients show abnormal protein deposits in the neurons of the cerebral cortex, brain, or spinal cord, which can cause function loss  or neuron death. Instead of being deposited in the nucleus, these proteins are deposited in the cytoplasm of the cell. These patients also show increased inflammation of the nervous system. This could explain the involvement of proteins such as NOD2 and Spp1 in the development of the disease and, furthermore, we could also use them as biomarkers of the disease. To learn more about biomarkers, check out this post on our blog.
Amyotrophic lateral sclerosis is neurodegenerative disease that has no cure and affects neurons in the brain and spinal cord. These gradually lose their function and die, causing progressive muscle weakness, to a point where the body is completely unable to carry out the most essential motor functions. Its origin is still unknown, and up to now no specific biomarkers are have been dsicovered for its molecular diagnosis or for predicting prognosis, and this is precisely where the importance of this work lies.
*Original source: Identifican dos biomarcadores en pacientes con esclerosis lateral amiotrófica (ELA)