Share4Rare study of sleep abnormalities in SYNGAP-1 syndrome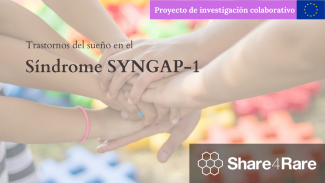 A new Share4Rare collaborative study analyses sleep abnormalities in paediatric patients with SYNGAP-1 syndrome, a genetic neurologic syndrome.
SYNGAP-1 syndrome is an ultra-rare disease caused by a mutation in the SYNGAP1 gene, involved in brain development. Children born with a mutation in this gene are affected by a wide range of symptoms. The degree of affectation may vary amongs individuals and can range from mild to severe, including neurodevelopmental delay, intellectual disability, epilepsy, autism spectrum disorder, behavioural problems and sleep disorders.
There is currently no specific cure or treatment for SYNGAP-1 syndrome, but intensive therapy can help these patients improve their skills and achieve certain goals.
Up to date, there is still no scientific explanation for sleep abnormalities common in patients with SYNGAP1 mutations and there are no specific studies with an adequate characterization of this problem. At Share4Rare we are developing a research study on sleep abnormalities in children with this mutation, leaded by Dr Juliana Ribeiro and Dr. Àngels Cazorla, from Hospital Sant Joan de Déu Barcelona in collaboration with SYNGAP-1 España, patient organisation of reference in Spain.
The objective of this research study is to identify potential sleep problems in people with encephalopathy linked to a mutation in the SYNGAP1 gene to try to discover possible biomarkers that may lead to improve the symptoms and the quality of life of the patients and their families.
The information provided by these patients or their caregivers will allow us to analyse and evaluate the sleep abnormalities in paediatric patients. Three validated scales will be used as an instrument to report signs and symptoms on sleep disorders from a patient perspective.
Carers of children affected by SYNGAP-1 syndrome who have not yet signed up for Share4Rare and but would like to participate in the research study, can now register here. The study is conducted in Spanish. Please, contact us at info@share4rare.org if you would like to receive additional information about the research project.