Hospital Sant Joan de Déu
Share4Rare launches the 1st open call for patient-driven research projects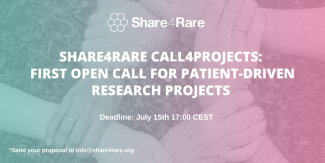 We are pleased to announce that our 1st Call for Research Projects will accept applications before July 15th 17:00 h CEST. To submit your application, please send us the requested information to info@share4rare.org
Share4Rare invites patient organisations and researchers in the field of rare diseases to apply for conducting their patient-centred studies within the platform. The ambition of Share4Rare is to put patients at the centre of research, not only by asking them directly regarding the disease they live with, but by providing them a safe platform where they can rise their own scientific research questions and by accompanying them in every step of the way.
Why should you apply?
We facilitate the communication with patients, their carers and their families, in order to collect their perspective on rare diseases.
We are a dedicated team who will support your patients and carers throughout the research process.
Share4Rare stores data in a trusted healthcare institution with secure environment and GDPR-compliant protocols and procedures.
We support and facilitate the ethical submission and approval.
We ensure only validated users will be able to complete your questionnaires.
The data analysis is not only for your study, but also for the users who contribute with their data, so they can visualise where they stand compared to their peers in an anonymous and aggregated way.
We provide a data science report at the end of your research study with all the results.
How should you apply?
Please read the

Share4Rare Call for Research Projects Description

.
Fill in the Contact Form and the

Application Form

.

Submit the

Contact Form

and the

Application Form

to info@share4rare.org before July 15th 17:00h CEST.
Topics
Associations
Research
Share4Rare