Research study on neuromuscular diseases: interactive session with families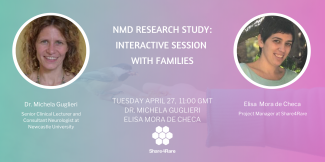 Impact of neuromuscular diseases on education and working opportunities of patients and carers
Dr Michaela Guglieri, an expert in the field of neuromuscular conditions, will host an hour-long Share4Rare webinar in which she will explain our study on NMDs. Will you join us to do some research?
In this session we will explain the Share4Rare research project on neuromuscular diseases. This study collects information about quality of life/burden of the pathology and the impact of the disease on learning and job opportunities for patients and their families. The pilot will collect and analyse information on the following diseases:
Muscular dystrophies, for instance, Myotonic Dystrophy, Facioscapulohumeral MD (FSHD), Limb-Girdle MD (LGMD), Congenital MD (CMD)

Amyotrophic lateral sclerosis (ALS)

Peripheral neuropathies

Congenital myasthenias

Congenital myopathies
Patients and caregivers affected by one of the above diseases can participate in the study and answer our questionnaires anonymously.
During this webinar, Dr. Michela Guglieri will explain why and how we research the impact that neuromuscular diseases may have on work and education opportunities. This includes the effects on the patient as well as on the caregiver. Next to this, Share4Rare platform manager Elisa Mora de Checa will explain the platform registration process and how to participate in the study.
On Tuesday April 27th, 11 AM GMT we invite you to a virtual session, where the following topics will be addressed:
Research project presentation

Process update: how fare are we?

How to join Share4Rare and participate in the study
During the session, questions that may arise will be collected and discussed.
This webinar will be hosted by the World Duchenne Organization in collaboration with the John Walton Muscular Dystrophy Research Centre.
Would like to join? Please register through

this form

.
Sign up

 for Share4Rare!
Related diseases
Amyotrophic lateral sclerosis
Congenital muscular dystrophies
Congenital myasthenias
Congenital myopathies
Fascioescapulohumeral muscular dystrophy
Limb girdle muscular dystrophy
Myotonic dystrophy
Peripheral neuropathies
Topics
Education
Neuromuscular
Research
Share4Rare