Melanoma Patient Network Europe
Receiving a cancer diagnosis is always bad. But receiving a rare cancer diagnosis adds to the challenge.
Description of the natural history of ultra-rare paediatric tumours
Share4Rare recently interviewed OcuMel UK's CEO Jo Gumbs about her experience with ocular melanoma, a rare cancer, and her efforts on patient advocacy.
Ocular melanoma is a rare form of melanoma and starts in the pigment-producing cells of the eye. About 6 out of a million people will be diagnosed with ocular melanoma every year, the large majority of them as adults. In very rare instances, ocular melanoma can also affect children.
Jo, thank you for taking the time for this interview. Could you tell us something about yourself and how you ended up being involved with ocular melanoma?
My dad had been experiencing problems with his vision and thought his new glasses had been made incorrectly as they didn't resolve the problems he was having. He went back to his opticians to then learn he had some sort of mass at the back of his eye. At that stage, we had no idea what this would mean. After weeks of agonising wait for the further tests, we were told he had a malignant tumour and he'd need to lose his eye in order to remove the tumour.
It wasn't until two years later that we began to learn the enormity of what this dreadful cancer would mean for him. In that time, we had wrongly thought that if the cancer was to spread, he would then be offered chemotherapy or some other type of treatment, but this wasn't the case. We found out there was no clear treatment path for people with uveal melanoma once it has spread — that's one form of ocular melanoma —  nor in fact any beneficial treatments back then, and we lost him to this dreadful disease shortly after.
Our family were devastated, angry, guilty, lost and every other emotion you could think of.
We felt we should have learnt more about this condition at the very beginning for him to have had any chance of beating this thing.
Even if he could not have had treatment, knowing his time was limited would have been incredibly valuable for my dad and our entire family. 
All we knew then was that we could not let others have the same experience and so we set up a charity to provide information and support. Together with another lady who lost her father, we created a website, set up a helpline and arranged patient conferences so people better understand their options. It is helping but we are still losing too many to ocular melanoma, so now we look into how to support research so things just go faster.
What are in your experience particular challenges for patients with rare cancers?
The biggest issue for us was knowing what information was relevant to us and what we needed to ignore. So much of what we read said he was terminal, yet we were hearing about experiences from some people that were still living after certain treatments. These weren't the types of treatment that came from 'a special blends of teas' or some other unproven treatments, these were localised or systemic treatments administered by proper doctors in proper hospitals.  We tried to learn as much as we could in a short space of time and we were able to find a doctor willing to give him more time. For him, treatment came late into his journey and it did give him longer, but we are left with the feeling of guilt for not knowing the information we needed at a time we needed it. When his time came, we were already immune to people telling us there was no hope and so we were unprepared. 
Unless you are in a centre leading research and treatments for your condition, patients will only know about some 'standard of care'. In a cancer like ocular melanoma where we know the standard options are not very effective, having access to clinical trials and experimental treatments is so important but patients don't automatically end up in these places. So patients with rare cancers usually have to advocate for their own care and treatment. This poses two problems, standard of care often isn't enough to help patients with rare cancer and secondly, how are you supposed to know as a patient, whether your centre can offer you the very latest in treatments?
As a layperson, we have an idealist idea of how medicines are developed and offered to patients. Treatments are developed, tested and patients who need them, receive them. In reality, the time between these steps are immense for patients, clinical trials tend not to be designed to suit people and it can take years to collect enough data before treatments and the costs that go with them, are approved. 
If you are an educated rare disease patient, you can be well aware of a vital treatment that could help but access can be a challenge. If you aren't as well informed, your chances could be limited. 
Not belonging to cancer support groups can be hard for some people. I hear from some that until they found our community, they didn't feel they had a 'proper' cancer and so they were unsure if they should feel the way they did about their diagnosis. If they do find support, people are intrigued by their rare cancer and start to learn about it and often start helping others!
What advice would you give to anyone diagnosed with a rare cancer?
I would suggest to anyone with a rare cancer to find others with the same condition and find a community. In that community, you are likely to find a mix of people with different skills and experiences. Learn about their experience, the developments in your condition, who is leading the research in your country and elsewhere, whether others experienced similar issues to you and how they've tried to resolve them. You can learn from these people and help them build the community by then helping others. 
Some of us don't come to this with a medical background and so it can be daunting but know what works for you and use your skills to research what you need to understand. My thought is that if someone else can do something then so can you, so keep at it and you will build up your knowledge.
The best thing about having a community to work with is that you will all have different strengths, so use these strengths and everything will become so much easier.
Also, use what is already in place in terms of learning. You won't be the first to be in this situation and so use recognised learning platforms such as Eupati to become familiar with the processes medicines need to go through before they are available to patients. We have to understand the system in order to change it, so start by learning what matters to you initially and build it up from there.
Thank you for taking the time, Jo, and best of luck with all your endeavours to help patients with ocular melanoma!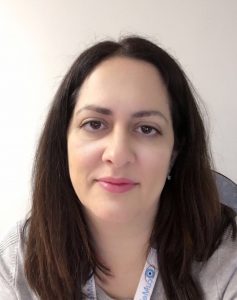 Jo Gumbs is the National Director of OcuMel UK, a charity for the support of people with ocular melanoma
Topics
Associations
Education
Oncology
Patient advocacy