Rare Diseases Hub Ukraine in response to rare pathologies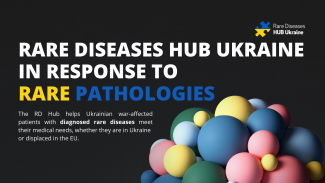 This initiative promoted by the European Comission is intended to help Ukrainian rare disease patients during the conflict that started on February, after Russia invaded the country.
It is estimated that there are around 2 million patients in Ukraine suffering from rare diseases. This situation has been exacerbated by the crisis resulting from the war. Rare diseases affect 5 out of 10,000 inhabitants and most of the time, diagnosis is complex, they are difficult to detect and also difficult to treat. For this reason, and with the aim of responding to the clinical complexity required by these cases, the Rare Diseases Hub Ukraine has been created.
Rare Diseases Hub Ukraine is an innovative project promoted by the European Commission and based at the Sant Joan de Déu Hospital Children's Hospital in Barcelona, a member of the European Children's Hospital Organisation (ECHO). Its main objective is to provide a Europe-wide response to the medical needs of Ukrainian patients with diagnosed rare pathologies, whether they are inside or outside the country during the war.
The Hub has been designed to be fast, structurally flexible, reliable, visible and able to leverage available resources. It relies at all times on a wide network of collaboration between healthcare providers and hospitals, institutions, patient organisations, NGOs and other entities involved in the management of rare diseases.
Rare Diseases Hub Ukraine is currently receiving a significant volume of requests, all with high clinical variability, which are being carefully analysed on a case-by-case basis. The team works closely with a number of organisations to offer more than just healthcare: understanding the needs that may arise from treatment, it intends to respond to issues such as temporary accommodation and patient transport. 
If you are a caregiver, a patient or a specialists you can contact RD Hub through the form available on the website and App. You can also contact the Hub by phone (+34 93 600 61 11). They attend patients in Ukrainian, English and Spanish.