New Share4Rare webinar: "International patient registry for rare diseases and COVID-19"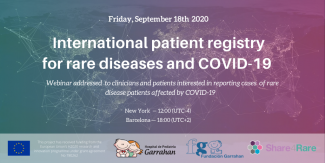 Share4Rare, the Garrahan Paediatric Hospital, the Garrahan Foundation and several patients' organisations are organizing a new webinar to present the new international registry of patients with rare or undiagnosed diseases and who have been affected by COVID-19.
On September 18th Share4Rare organizes a webinar along with the Garrahan Hospital from Buenos Aires (Argentina) to present the new international patient registry that will be created in the platform. The initiative "The burden of COVID-19 in people affected by rare diseases" aims to improve our knowledge on how COVID-19 affects patients with rare or undiagnosed diseases of any age. This unique global strategy will help collect information directly from patients and clinicians, and create a registry that will give new insights on the new SARS-COV-2 infection and on how it affects patients with this kind of pathologies.
The webinar is addressed to patients, associations, clinicians and researchers. Several clinical cases will be presented and questions from attendees will be addressed during the session.
IMPORTANT! --> THERE WILL BE SIMULTANEOUS TRANSLATION INTO SPANISH / HABRÁ TRADUCCIÓN SIMULTÁNEA AL CASTELLANO
Agenda
Share4Rare: collaborative research on rare diseases 
COVID-19 and rare diseases. Clinical cases.
The role of patients' associations in Share4Rare
Questions & Answers 
Speakers
Dr. Marcelo Andrade (Sant Joan de Déu Barcelona Children's Hospital)
Dr. Guillermo Chantada (Sant Joan de Déu Barcelona Children's Hospital and Garrahan Hospital Buenos Aires)
Begonya Nafria (Coordinator of Share4Rare)
Information and registration
The hour-long webinar will take place on Friday, September 18th 2020 at 18:00 pm Barcelona time zone, UCT+2 (at 12:00 pm New York time zone, UCT-4). Are you affected by a rare disease (or are you and undiagnosed patient) and you have tested positive for COVID-19? Do you belong to a patients' organisation and you know reported cases of COVID-19? Are you a clinician or researcher on the rare disease field and you are interested in reporting COVID-19 cases? Sign up at this link to join the webinar.
Topics
Patient advocacy
Research
Share4Rare