New Share4Rare study on health-related quality of life in people living with rare diseases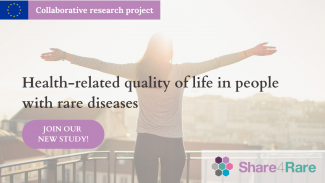 This new Share4Rare study will gather specific information on the effects of the disease on people's quality of life, which will help professionals and policymakers to make more accurate decisions and design suitable recommendations. Will you join us to do some research?
The Share4Rare platform is growing day by day. Our safe space is taking in patients and families from all over the world to share knowledge and expertise and boost patient-centred research projects, some of them disease-specific and others more general and addressed to all the rare disease community.
Reaching all the community is precisely the aim of our new cross-sectional study, focused in collecting specific information about the impact of the rare disease on the quality of life of the patients. We will subsequently correlate these data with factors like demography, time of diagnosis and disease-specific symptoms, and use this information to help key stakeholders design suitable and effective recommendations and guidelines. In order to understand the real impact of different diseases we need health information provided by a highly diverse group of people, so we would like to encourage all the rare disease community to participate. Are you in?
Information directly provided by adult patients or caregivers of paediatric patients will allow us identify and prioritize areas of intervention for an integral care of the patients. We will use a validated scale as an instrument to evaluate the effects on quality of life based on 8 concepts:
Physical functioning

Bodily pain

Role limitations due to physical health problems

Role limitations due to personal or emotional problems

Emotional well-being

Social functioning

Energy

General health perceptions 
If you are a patient or a caregiver and you would like to participate in this challenging project, you can register here.
The study is available in Spanish and English and will close on 14th February, as the results will be disseminated on Rare Disease Day 2022.
Please, contact us at info@share4rare.org if you are interested in receiving additional information about the research project.
Topics
Quality of life
Research
Share4Rare