Meeting the partners — Cliclab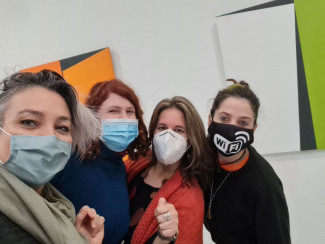 We still have a couple of Share4Rare partners to present. Today is Cliclab's turn! Let's talk about sustainability.
Cliclab is a transformative agent whose objective is to innovate the approach of entrepreneurs and companies with new methods. Cliclab is a personal and corporate transformation agency or, as they like to say, a click lab. "We have developed an innovative methodology so that workers, leaders, teams and/or the entire company can make a 'click', innovate, so that they discover other ways of doing things, more innovative, efficient and sustainable, but, above all, more human and happier", says Cliclab co-founder Anaïs Le Corvec.
Within the Share4Rare consortium, Cliclab oversees the sustainability, exploitation and business plan in the very last phase of the project, and will present the SROI (Social Return on Investment) for various outcomes of the project. "We are proud to bring our social innovation expertise to the project, ensuring the main outcomes can be sustainable in the future".
Anaïs points out that the main struggle rare disease patients must face is the lack of information. "And most of the time the high costs of the research or the access to it", she adds. In order to deal with these obstacles, she highlights some of the pillars of Share4Rare: "It is a free access platform, where patients and families can share their doubts and questions, and where researchers, organisations and professionals can find information about diseases with very few cases around the world. It puts people together through technology, increases hope and possibilities to find treatments and a common room for people, where they can express their personal experience not only to find support, but also long term solutions".
When asked about Cliclab's reasons to join the project she replies:
"The project gives visibility to the two sides of a rare disease: on one side, the patient and the family, and on the other, healthcare professionals. They have a direct exchange through the platform, and it is very important to improve the technology to increase the long-distance research and spread information to find low-cost or free solutions for people suffering a rare disease"
Regarding the benefits that Share4Rare has brought to Cliclab, Anaïs speaks about sharing expertise: "We have already gained a lot on sharing expertise from all the partners of the consortium. We have learned how collaborative work with many organisations can sometimes be challenging, but also very rewarding. We surely have and will gain more insights on the rare disease communities, and the ways citizen science can support research".
About the project unexpected learnings, Anaïs states: "We knew patient advocacy was important, but we surely have seen it is essential, and coupled with technology, it can be a game changer".
For Anaïs, Share4Rare will be successful once it is an integrated part of the websites of certain entities (i.e. hospitals, patient organisations, foundations…), this is, an open-source software, not just an independent project for navel-gazing.