Looking for patients with 6q25 deletion syndrome: Mia Regina's story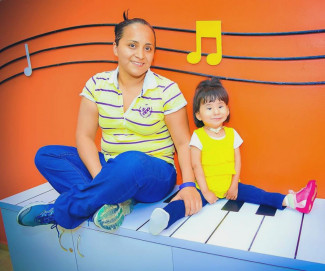 In order to improve our knowledge of ultra-rare diseases, those with only a few patients diagnosed in the world, it is essential to connect all the these people and their families. Litza recently contacted us from Mexico to tell us about her daughter's case.
Mia Regina is a 6-year-old girl born in Mexico DF with a rare genetic pathology: the 6q25 deletion syndrome. This syndrome was described approximately a decade ago and is characterized by — among other symptoms — developmental delay, microcephaly, facial dysmorphism and hearing loss. Patients with this mutation, which is not hereditary, lack a specific DNA fragment on chromosome 6.
Litza, Mia Regina's mother, recalls that, since her little girl was born, she noticed that something was wrong. "When she was born she didn't cry like a normal baby and doctors told me that something was wrong with her, so they started doing tests to see what was going on. My daughter was born with hypotonia, micrognathia — very small jaw — and a cleft palate".
Over the years, Mia Regina has shown global developmental delay and severe hearing problems. Due to digestive complications she had to undergo a gastrostomy — a procedure to place a feeding tube from the abdomen to the stomach — and she also suffers an equinovarous foot deformity, a birth defect of the foot that left untreated can limit a person's mobility by making it difficult and painful to walk.
Litza's day-to-day life is complicated because, besides Mia Regina, she has two kids: an older girl, Frida, and little Jorge. Regina needs a special diet for her gastrostomy and Litza prepares it daily. In addition, the girl still needs to use a diaper. "She also uses ventilation tubes, which makes it impossible to bathe her like any other child. Generally speaking, she can't be autonomous. Mia Regina is like a six-year-old baby".
The whole family is completely committed to little Regina. "Frida loves her and protects her and, as her older sister, she always wants to teach her how to do all kinds of different stuff, even though Regina is unable to do them, and little Jorge has developed a protective instinct for her sister. Her father loves her, takes care of her and he is with her as much as he can. Her grandparents and the rest of the family members are always watching over Regina". Litza says that she has learned a lot from Regina's disease. First, that medical diagnoses are not always 100% accurate. "I have also seen such a small body withstands so much pain and fight for life with such strength... Now I have more empathy and I would like to be able to help people with disabilities".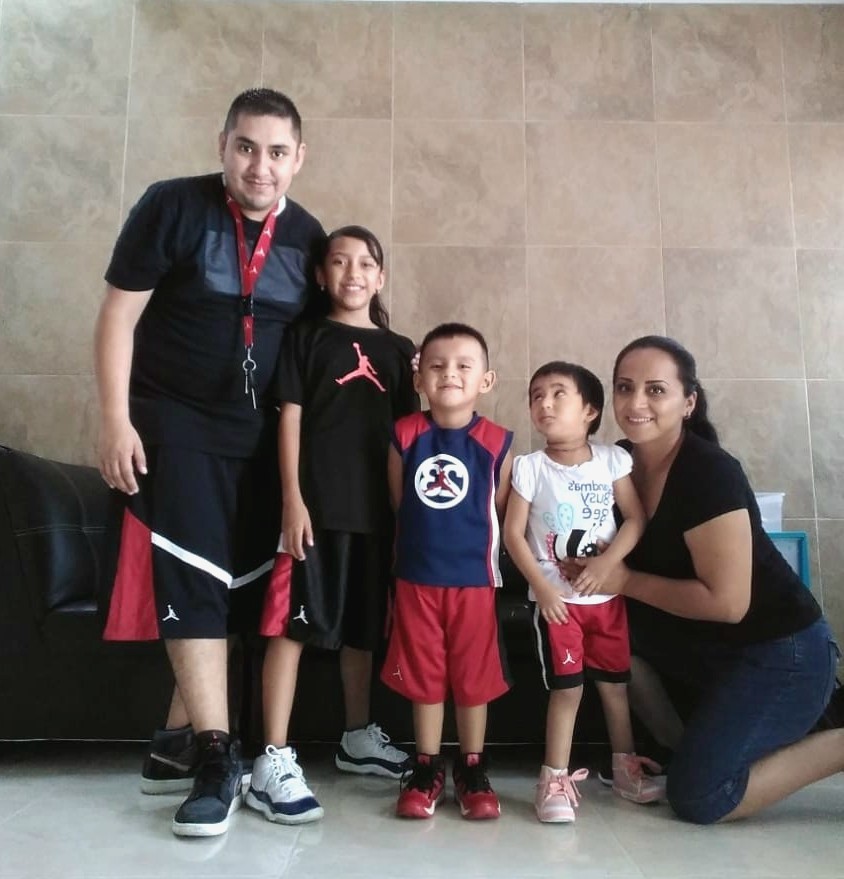 Visits to the doctor are frequent "My daughter sees 7 different specialists and I take her to the doctor twice to three times a week". Litza regrets that doctors hardly know anything about her daughter's disease and that they have not received much information about disease management. "Facing this rare disease is hard. It's all about uncertainty and concern. We also feel a lot of frustration because we don't know what will happen in the near future. There are no previous studies of people facing the same condition as my daughter, and this frustrates me because I don't know what I can do to help her. I feel that I have neither a guide nor a direction".
Litza does not know any other families in the same situation, so she wants to make a calls through Share4Rare. "It's very important for my husband Jorge, for my children and for me to meet other people living with the same disease as Mia Regina so we could share information with them, and if these patients are older than my daughter, they might be able to tell us what symptoms they have experienced and how the disease has evolved. We know nothing and we feel so helpless". This courageous mother uses social media to look for other patients like her daughter and is now registered in Share4Rare as a caregiver. In the platform she is looking for "comfort, light and guidance." She believes that, in cases like her daughter's, it is necessary to go across borders and promote collaborative research. "I am willing to contribute as much as I can to help my daughter and so that other families do not feel as bad and lost as I feel".
If you know of a case of 6q25 deletion syndrome, do not hesitate to share this story and invite the affected families to register in Share4Rare. The union of all patients is essential to advance research. Let's make rare extraordinary! 
Topics
Patient advocacy
Share4Rare