How to go from a good idea to a great one: a case study in co-creation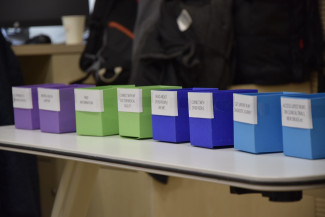 When you first look at a project proposal like Share4Rare you cannot help but feel the excitement - a digital solution to help solve so many problems? Sounds too good to be true. But what if it isn't? Roxana Radu, Communications Manager at The Synergist, explains how Share4Rare designed the platform
The digital environment is shaping the way we interact and interpret the healthcare environment. It has the power to erase borders, overcome old challenges and bridge the gap between very different stakeholders active in the ecosystem. This is exactly what we are doing with Share4Rare.
What's different about our approach, and what makes it more likely to succeed, is that we are co-creating the solution with the people who will eventually benefit from it. We alone cannot fix things and find innovative ideas, we simply need to work WITH the interested parties, discover their needs, their interpretation of the problem, and work together to co-create solutions.
In order to do just that, The Synergist organized and delivered 3 co-creation workshops to support the Share4Rare platform development. The methodology followed an already established approach - the "Human Centered Design" theory from IDEO.com.
Curious about how it worked?
5 steps to a co-created platform
1. First things first: user personas.
Extensive desk research of behavioural studies, scientific publications and empiric conclusions were transformed into a concrete description of the very different people affected by rare diseases - patients and caregivers in different diagnostic stages, as well as patient advocates, clinicians and researchers in the field. We looked at their current behaviour, possible needs, and ways to address them. The analysis served as a basis for all future workshop designs.
2. Needs analysis: a deep dive.
The first workshop focused on something IDEO calls the "inspiration phase". We met with patients, caregivers and healthcare professionals, we cried and laughed with them trying to better understand their lives - from the impact a rare disease diagnosis has on one's life, to how they use internet services and digital platforms. This was done through moderated group interviews. Just to make things easier, in this phase we separated clinicians from patients and caregivers, since the challenges experienced are very different for the two groups.
3. Learning to walk before we run.
The second workshop focused on an extensive and interactive feedback session on a first version of platform design and interaction model. We had an idea of how we wanted the platform to look, but needed to be sure that this would be in line with what our stakeholders actually care about. And even if the group was engaged and enthusiastic, we realized that we could do more to make the unique value proposition of the platform clearer. We decided that we needed to redefine that, and articulate a compelling structure of features to support it. So back to the drawing board.
4. Games, fun, and a bit of clarity.
Based on our previous learning, the third and last workshop focused on the unique values of the Share4Rare platform, as well as more specific feature needs that patients and caregivers have. A full day of interviews, role-playing creativity games and design challenges helped us determine with a great deal of accuracy how the next steps should look, so this platform fits perfectly the expectations of our main stakeholders.
5. Conclusions and wrap up.
So much inspiration, ideas and value came out in all the previous steps. Delivering a digital product is not easy, especially when you want it to be meaningful, easy to use and set up for success. It becomes even more difficult when you have a couple of dozen of cool ideas and features in mind. That's why, the final step of our methodology was a prioritization exercise.
Curious about the results? You'll just have to stay tuned for the upcoming platform launch.