The conceptualization of the Share4Rare brand

Òmada Interactiva has developed the Share4Rare brand, including the logo. But, what process did they follow? What were they inspired by? This is what they told us
A few months after arriving at Òmada, general director Inma Chapí presented us a new project that we were going to address from the very beginning: an exchange platform for rare disease patients and researchers aimed at creating a global network to boost research. The Share4Rare adventure was taking off!
Creating a brand from scratch is always a challenge. If it is also a brand that encompasses delicate and emotional issues and that is going to be launched in a cold digital medium, the challenge is huge. After several weeks and more than a few meetings, we could understand the essence of the project enough to start embodying the first hints of how to represent Share4Rare.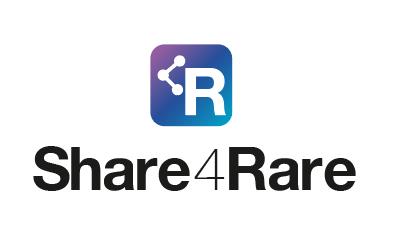 In the beginning it was… colour
Choosing the colours was a key issue. We knew that we needed a colour palette with the potential to characterize the different branches and concepts of the brand. We wanted to discard bright colours but, at the same time, we did not want to choose hard or dull tones. Throughout every conceptualization process balance is the most important thing to bear in mind.
The Share4Rare colour palette represents a positive emotional balance: its colours give hope, but also tranquility and harmony. They are not so powerful to raise the emotional state, nor so soft to drop it. These colours accompany you, pick you up and hug you.
Shaping ideas
Once we had a primary colour palette in mind, we then proceeded to illustrate the key concepts of the brand; they had to be tangible. We were aware that Share4Rare was related to concepts like human, sensitive, union, cohesion, truthfulness or network and that, in addition, the brand was going to be totally linked to a technological digital platform. So ... how could we create something sensitive and organic living in a pretty distant environment such as technology?
We needed curved, organic forms coming from nature and that, in some way, could bring us back to our origins transmitting warmth and reducing the distance with users. Our first approach was materialized in a moodboard that we still keep as a reference.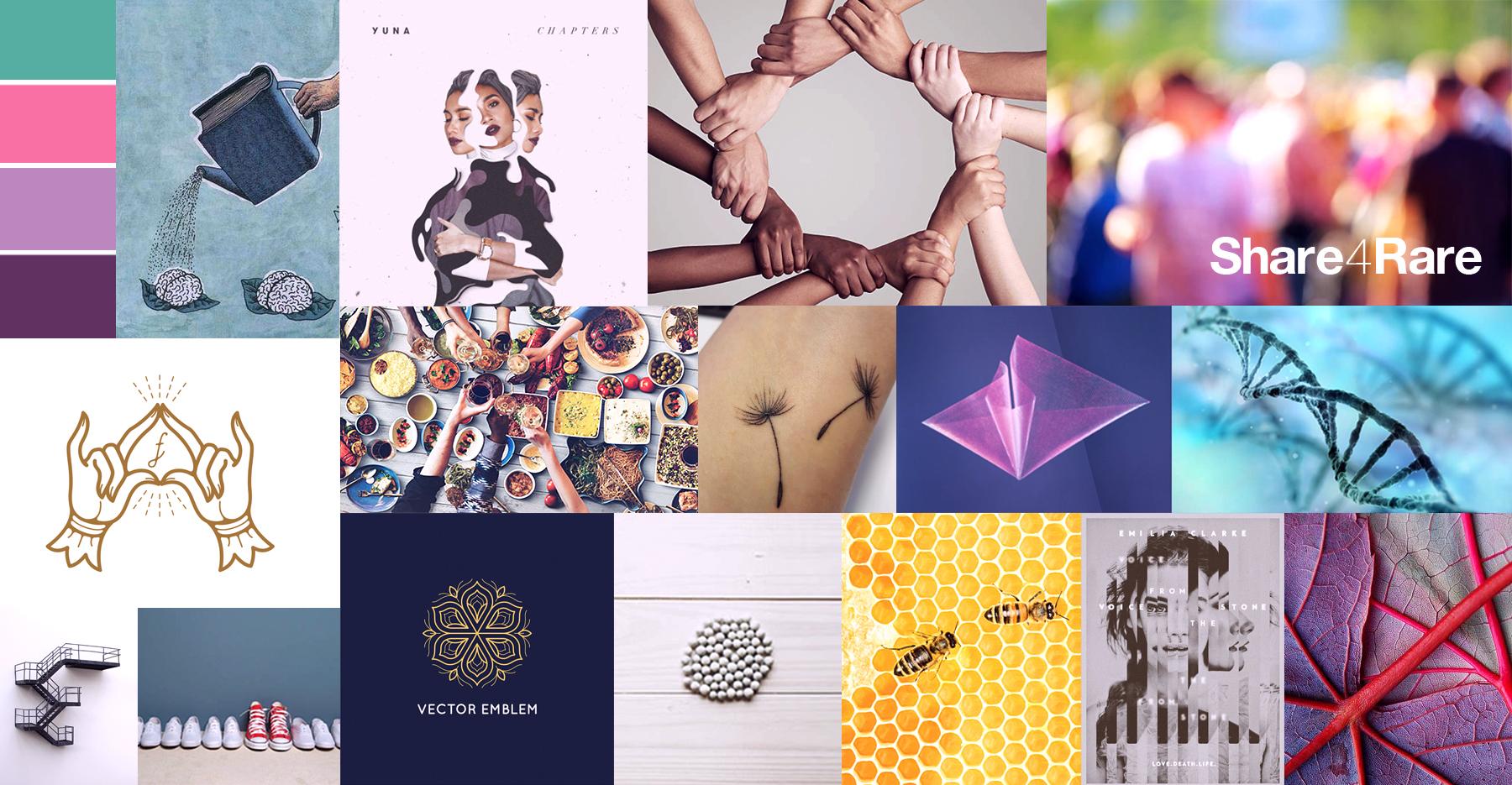 In addition to the most obvious ideas, such as the tension between organic-natural and geometric-technological, or the force founded on the union, the moodboard captured some very powerful secondary ideas that we had not been fully aware of. For example, the oddness and alienation that rare diseases entail, which blur individuals and how they are perceived by society.
Nature is the answer
After exploring different shapes and patterns, we opted to use a honeycomb, a form both organic and geometric and one of nature's greatest technological achievements. It directly represents the value of the community and the result of common work and, visually, it refers to mosaics, the variety that forms a whole.

In order to create the image of the community -apart from applying the colours of Share4Rare-, we decided to rotate ninety degrees the classic representation of the honeycomb in order to achieve a greater visual balance and more stability. The final result is a versatile imagotype for both the web and physical applications that allows vertical and horizontal versions, either coloured or monochrome positive and negative. An imagotype that, as the Share4Rare brand starts to be consolidated, may have full autonomy without indicating the name of the project.