Animal-assisted interventions: a great tool to accompany and treat paediatric patients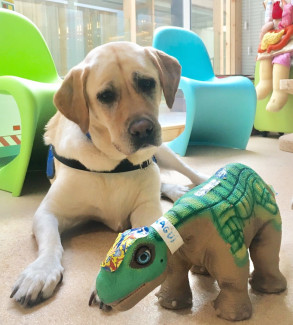 In 2009, Sant Joan de Déu Barcelona Children's Hospital (HSJD) became the first hospital in Spain to create a stable unit for dog-assisted interventions. We talked to Eva Domènec, from the Canine-Assisted Therapy Care Centre (CTAC), about this interesting resource.
This innovative tool was introduced in Sant Joan de Déu by Mª Josep Planas (HSJD Planning Director) and Núria Serrallonga (Child Life HSJD) through the CTAC (Canine-Assisted Therapy Centre), where Eva Domènec works as an animal-assisted intervention technician. "It was a progressive, very structured and scientific evidence-based process. From the very beginning it was much appreciated by the professionals and the families who visited the hospital", recalls Eva. The first interventions were carried out in 2010 and over time, they became part of the San Juan de Déu Hospital Amic program, whose objectives are to improve the hospital experience of the children and to work on therapeutic objectives through "special" resources, such as dogs, clowns, art or music. This program is coordinated by the Child Life team, formed by nursing practitioners specialized in accompanying and supporting patients and families throughout their hospital stay.
"The Animal-Assisted Interventions Unit (IAA) of the HSJD was formed in 2012 and it develops different activities with boys and girls in open spaces, waiting rooms or a wide range of therapy sessions carried out by diverse professional teams in various areas of the centre", points out Eva. The financial aid of the animal food company Purina was used to the disseminate some of the IAA programs, which were also published in the so-called Faros notebooks.
An ancient bond that improves our quality of life
The emotional bonds between dogs and humans are widely known and started back during the dog domestication process, which, according to the experts, occurred more than 18,000 years ago. We keep finding more and more evidence about dogs being a powerful support resource for our healthy development and the improvement of our quality of life. Eva explains that the first person who wrote about the therapeutic value of animals in the family environment was Dr. James Bossard in 1944. "Bossard stated that pets are an essential part of family life and that they should be considered as a basic factor of mental hygiene". Later, psychiatrist Boris Levinson opened the door to what we currently know as Animal-Assisted Therapy.
There are different types of AAIs depending on their objectives. In animal-assisted therapy, health professionals address therapeutic objectives through the human-animal bond. "Dogs can help the child take his/her medication, move around actively, relax, communicate, etc.", Eva says. There are also educational interventions, interventions that seek to gather patient information — especially in psychiatric patients who visit the centre for the first time —, interventions to distract and relax patients and families in waiting rooms or during different procedures, such as a blood draw or a cardiac ultrasound.
The hospital dogs
The Sant Joan de Déu AAI Unit currently has 18 dogs that have been previously selected, trained, accredited and supervised at a veterinary level, so they can do their job together with their co-workers: the Canine-Assisted Therapy Centre AAI technicians, where Eva Domènec develops her tasks. There are two intervention units formed by a technician and two dogs, who take turns to ensure that they carry out their tasks correctly and comply with resting periods. When asked about the living conditions of these dogs, Eva replies: "CTAC dogs are part of our lives; they are our co-workers, but also part of our family. We take care of them and enjoy them 24/7, ensuring their physical and emotional well-being".
Resting periods are strictly regulated and a safe and a healthy dog-people interaction is guaranteed through systematic veterinary checks and hygiene guidelines.
"CTAC dogs are part of our lives; they are our co-workers, but also part of our family. We take care of them and enjoy them 24/7, ensuring their physical and emotional well-being" — Eva Domènec
The first requirement to select a dog for AAI is basic obedience training. "They are constantly learning and adapting their skills to the needs of the different programs in which they participate. We always work with them using motivation, games and positive reinforcement", Eva points out.
Making interventions and therapies more bearable
There are lovely anecdotes every day at the Sant Joan de Déu AAI Unit, proving the success of this service. Eva fondly remembers one case: "One day a boy came to the blood extraction site with a huge teddy dog. When the technician saw him, she said: 'Well, well, well! You already carry your own dog' and the boy replied: 'As Tuna (name of the dog) is not here every day and she helps me a lot, I have brought Nono just in case'. The technician told him that that day they were lucky to have two dogs instead of one, and the boy said, looking at his teddy dog: 'Come with us and learn from the hospital dogs'. In mental health patients or in the so-called "we play at being veterinarians" activities, in which children pretend to perform tests and surgeries on dogs, there are also very nice stories". Eva relates a training course, where a student approached the dogs and told them that when she was admitted to Itaka — the Sant Joan de Déu psychiatric hospitalization unit — she started speaking again thanks to them.
The AAI Unit is becoming more and more popular and families even look for the dogs when they come around. "They love to interact with them," says Eva. "A smile, a caress, some comments, pictures and a thousand stories that can be summed up in phrases such as: 'look at the emotions dogs', 'cute curing dogs', 'I was moved', 'we were looking for you' , show that this tool is useful and valuable to accompany, treat and assist children who come to the hospital".
Evaluation of the impact of animal-assisted therapies
There are increasing scientific studies proving the benefits of human-animal relationships through the implementation of AAI, and Sant Joan de Déu has participated in several investigations that have shown positive outcomes. However, Eva explains that in some cases, such as in an end-of-life scenario, it is difficult to translate these benefits into data, and a more intuitive approach is needed. "We must continue working and investigating to share the benefits of these interventions with society and clinicians, while giving scientific support to this incredible relationship between people and AAI dogs".
Topics
Mental health
Physical therapy
Psychosocial support
Share4Rare