What is it like to have a sibling with a rare disease?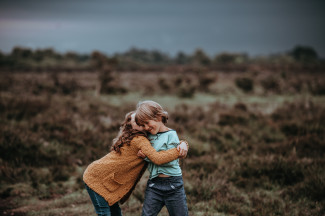 Siblings of children with rare disorders are also caregivers and must often deal with responsibilities that are not usually attributed to people their age. In this article, we review the struggles these children must face and we invite you to attend a new Share4Rare seminar covering this subject that will be held on October 28th at the Children's Hospital Sant Joan de Déu Barcelona.
Taking care of a loved one who is chronically ill, having a highly disabling pathology such as a rare disease, can be as rewarding as it is difficult and stressful. This kind of diseases entail for caregivers both physical distress (reduced rest time, physical load caused by mobilizations, etc.) and psychological difficulties, that can be even more stressful even than the physical issues. The uncertainty regarding the diagnosis, the evolution and the prognosis of the disease, and also the serious lack of information (according to Eurordis there is only scientific evidence for 10% of rare diseases) are some of the circumstances that generate severe emotional stress to caregivers.
In many families, caregivers are not just the parents. Siblings (older or younger) are an important point of support and collaboration in the caring process, and therefore we should also consider them within the group of caregivers.
Did you know that there is a whole population of young children who take care of someone with a serious chronic disease? Have you thought about what it is like for a child or teenager to take care of an ill brother or sister?
In Spain, for example, there are around 3 million people affected by a rare disease. If we consider that roughly 80% of these disorders affect the pediatric population, to a greater or lesser extent there will be a considerable percentage of families that may have another child besides the child affected by the rare disease.
What does taking care of a sick sibling mean for a child?
There are several aspects associated with being a sibling caregiver that have been identified and addressed by experts in the field:
Being a caregiver is physically exhausting

. In some situations the child must help bathing, dressing, lying down and getting out of bed, going to the bathroom, feeding or giving the medication to the sick sibling.

Being a caregiver is emotionally

exhausting. All the previous tasks create an unnatural a responsibility for people of young age, and therefore, they are eager to generate depressive feelings derived from hard questions, such as: Why does my brother/sister have this disease? Why this happened to me and my family? What will the future bring? etc.
Poor school performance

. Combining study time with care time is not easy. On certain occasions, it can affect school performance. When young caregivers are interviewed, many of them point out that while they were at school they could not stop watching the cell phone in case there was an emergency and they received a call from their parents.

Isolation

. Not being able to share experiences with other brothers who live in our same situation can lead to problems of interaction and exchange amongst equals.

Reduced leisure time

. Some children feel that their free time is affected by the disease of their sibling, which also makes them feel inferior to their peers who do not live the same situation. Also, many family free time activities may not be carried out due to the limitations of the brother's or sister's illness.

Causes constant concern

. Many young children who are caregivers fear what would happen to them if something happened to their sick loved one. This situation brings permanent anguish, which is rather common amongst minors and adults who take care of a sick person, but in the case of the siblings this will go along with them throughout their whole life, conditioning and determining many aspects related to their personality and the construction of the personal identity that is developed during adolescence.
Topics
Disease management
Psychosocial support
Share4Rare