Melanoma Patient Network Europe
Free access to this year's ASCO for patients - Register now!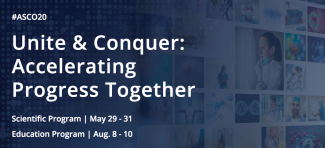 Are you interested in cancer research and patient advocacy? Join ASCO20 Virtual, the annual meeting of the American Society for Clinical Oncology that will go virtual this weekend!
The annual congress of ASCO (American Society for Clinical Oncology) is the world's largest oncology meeting. Last year over 30,000 people attended!
ASCO is one of the congresses where the very latest findings in cancer clinical research are presented. Normally, the congress takes place in a big venue in Chicago and has an educational program, one part for the latest scientific findings and a part for posters where smaller findings are presented.
Due to COVID-19, this year's ASCO will be held virtually and has been split into the scientific part — taking part this upcoming weekend! —  and the educational part that will take place in August.
And the good news is that for patients, attendance is free! It will allow to access all scientific content on demand from Friday onwards for 180 days and to dial into the plenary sessions during the weekend. An opportunity not to be missed!
How can patients register in ASCO20 Virtual
Patients and Survivors,
Given the unique circumstances surrounding this year's meeting, cancer patients and survivors are able to register for access to the virtual meeting presentations -  at no cost.  Patients and survivors may request a unique registration code by sending an email to patientadvocates@asco.org,  Please allow up to five business days for your request to be received and reviewed.
Please note that this registration category applies to ASCO20 Virtual only. For all other ASCO meetings, regular registration categories and rates apply. Additionally, this option is separate from the patient advocate registration category. Questions about patient advocate registration for ASCO meetings can be directed to patientadvocates@asco.org.
Full registration page: https://meetings.asco.org/am/registration
See you online!
Topics
Associations
Oncology
Patient advocacy