A biobank with paediatric tumour samples, essential for research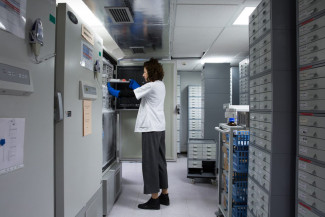 The Sant Joan de Déu Biobank has shared over 2,600 tumour samples with the Sant Joan de Déu Institute researchers and institutions worldwide.
Paediatric cancer, also known as developmental cancer, encompasses a group of rare diseases with low prevalence. Recognising the need for specialised care, the Sant Joan de Déu Barcelona Children's Hospital inaugurated the Pediatric Cancer Center Barcelona a year ago. This dedicated facility serves children and adolescents with cancer, providing comprehensive services for patients and their families. Moreover, the center serves as a hub for developmental cancer research, housing various spaces dedicated to advancing our understanding of these diseases.
For the past fifteen years, the Sant Joan de Déu Biobank has been systematically collecting tumour samples from patients throughout their disease journey. These samples not only aid in diagnosis but are also made available to research teams both within the institution and worldwide. Currently, the tumour bank houses a substantial collection of over 4,200 samples. Remarkably, more than 700 tumours have been cryopreserved, allowing for the cultivation of tumour cells—an invaluable resource for pre-clinical research.
Dr Cinzia Lavarino, the coordinator of the Translational Genomics group at the Sant Joan de Déu Research Institute, highlights the challenge of obtaining samples for certain tumours: "In the case of diffuse brain stem tumours (DIPG), for instance, obtaining samples for research purposes is extremely difficult. Many centers refrain from biopsying them due to the absence of curative treatments. However, our biobank houses 26 preserved samples of this specific tumour."
Learn more about how the Sant Joan de Déu Biobank supports biomedical research here.
*Source: El Institut de Recerca Sant Joan de Déu dispone de un banco de tumores pediátricos de gran valor para la investigación