7 tips to organise a successful global online training for your rare disease community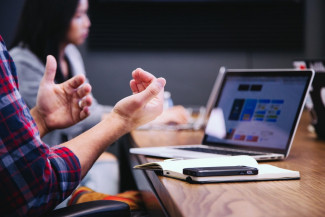 Last week, Duchenne Patient Academy (DPA) successfully concluded their 5th edition. This time taking place virtually, the 5-day training for Duchenne and Becker MD patient advocates brought together more then 80 participants from 41 countries. This article summarises the lessons learned from five years of organising global trainings from Suzie-Ann Bakker, program manager at the Duchenne Patient Academy.
Organising a training on a global scale can seem daunting at first. But when done right, you have created a connected community and move forward with a joint strategy that can benefit all. Are you thinking of organising a virtual event or training for patients or patient advocates? Take a look at the 7 tips below:
1. Create a board with key influencers
"If you want to go fast, go alone; but if you want to go far, go together". This quote is of particular interest to the already scattered rare disease community. Drafting the global strategy requires input from leaders in your specific field. Identify the key thought leaders in your field and invite them to join the committee. They can share their input on the agenda, moderate certain sessions and use their channels to invite experts. In addition to this, they can help disseminate the event to boost coverage and participation.
2. Draft the agenda based on community questions
This years' decision to draft the DPA agenda based on community questions was a hit. Throughout the year, I gathered questions that our organisation often received from the community. These were validated and further defined by the committee, who responded with a suitable speaker who could cover this topic. On the agenda, the exact question was stated such as 'Why don't we have gene and stem cell therapy yet in Duchenne MD?' and 'What can patient organizations do to improve the patient voice in therapy development?'
3. Look for non-disease-related topics
Some topics such as reimbursement of care and treatment, and access to care, are difficult to cover as implementation of this varies wildly per country. Instead, look for cross-cutting topics that can benefit the full community such as a global update on available clinical trials and therapies, or a general research update. In addition to this, look at what your community can learn from the broader rare disease field, or even technology partners. We invited the president of the Latvian melanoma community to share her experience on implementing care guidelines, and asked EURORDIS to present the outcomes and recommendations of H-CARE Survey about the patient and caregiver experience of medical care for their rare disease.
4. Professional development
In addition to training your community about 'hard skills' such as knowledge about clinical trials and updates on research, developing 'soft skills' is required if you want to create a change. Think: communication skills to advocate and fundraise, negotiation skills to navigate conflicts and crises. Emotional intelligence is an important aspect of patient advocates and instead of playing it down, they should be able to channel it for their benefit.
5. Include, and carefully manage, interactive sessions
Feedback we received from previous virtual training was that people want to interact with the other participants. If moderated carefully, interactive sessions are extremely valuable for your community as this gives them the chance to interact with peers and find common interests. Breakout sessions where groups of 5-6 participants discuss one clearly defined question for 15 minutes is a golden rule. You can ask the group to appoint a group leader who will report on the insights when you return in the plenary session.
6. Invite all key stakeholders. Yes, this includes companies
If you want to push for change, you want to have all stakeholders on board. This includes regulators, healthcare professionals and companies. Duchenne Patient Academy has one day where companies are invited to listen to presentations, and present their updates to the community. They are then invited to join the moderated panel discussion. A Research Director and Data Scientist were leading the discussion with predetermined questions to steer the discussion. At DPA, we discussed the return of individual clinical trial data after a trial has ended, and more inclusive eligibility criteria in clinical trials.
7. Listen, reflect, follow-up
Short, daily evaluations where people rate the sessions are easy tools to quickly gather insights. Upon closing the training, evaluate and summarise all the responses in a document that will be the base for the next edition. Next, you want to follow-up on what is discussed. Invite participants to small working groups around topics that surfaced, as you now know this is a topic close to their heart.  
Do you want to organise your own training, and do you have questions? Don't hesitate to reach out to suzieann.bakker@worldduchenne.org for a virtual coffee to brainstorm on ideas and approaches.
Read more about Duchenne Patient Academy (DPA) here. 
Related diseases
Duchenne muscular dystrophy
Topics
Education
Neuromuscular
Patient advocacy
Share4Rare